This will be my first entry for Yummy Sunday. Bogie, my fellow Cagay-anon invited me twice. I hope, I am doing it correctly. Today, my sister-in-law celebrated her birthday in her father's house so, I took few pictures of the food on the table.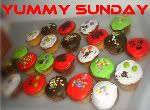 Shrimp Dish is the only food we prepare and the rest were brought by the other members of the family. This is on my plate, LOL...I ate all of this...nah, I shared this with my husband.
I forgot to set the date of the camera that is why it is showing 2005. Sorry, I am too sleepy to edit it now. Aunt Myra bake this cake and it taste so delicious. During Christmas, Thanksgiving and Fourth of July, she always initiate a party for the whole clan. I am so excited for every event. Filipinos love the sweets, she had those in one area. Yummy!
Another cake she bake. This is like a chiffon cake and I like it a lot.
I know, it doesn't look extra special hahaha. This is
GUMBO (soup rich in flavor)
. If you live in Alabama, Texas, Georgia, Louisiana and Mississippi, this food is truly one of a kind. This is made up of shrimp, okra, celery, bell peppers, onion, and many more. When you eat gumbo, you need to have white rice, the main component of gumbo.